Now that you reached the Legendary Arena, you can't be demoted to a lower one so, welcome to the Legendary Arena! This arena is where leagues are unlocked, and there's a total of 10 leagues:
Challenger I: 5,000 trophies 🏆
Challenger II: 5,300 trophies 🏆
Challenger III: 5,600 trophies 🏆
Master I: 6,000 trophies 🏆
Master II: 6,300 trophies 🏆
Master III: 6,600 trophies 🏆
Champion: 7,000 trophies 🏆
Grand Champion: 7,300 trophies 🏆
Royal Champion: 7,600 trophies 🏆
Ultimate Champion: 8,000 trophies 🏆
New cards obtainable on Arena 15, the Legendary Arena
Royal Delivery
Battle Healer
Clone
Tornado
Cannon Card
Mother Witch
Fisherman
In this arena, you should dominate a couple of deck archetypes in order to succeed in the Clash Royale Leagues. Here I will show you decks that will be useful for all the Legendary Arena Leagues, no matter which League you are in or what is the actual meta, as they are so powerful anyways.
Best decks arena 15 actually
Royal Hogs deck for arena 15
Double Log Bait deck arena 15
Lavaloon Miner deck arena 15
These are the decks that I'd recommend using during your Clash Royale career in Arena 15, so level them up if you can. Down below you'll find 6 more decks that are also so dominant and strong.
What should you keep in mind for this Arena 15?
Arena 13 is where you'll grow up as a Player. Be ready to face so strange decks, some of them will frustrate you, you'll think that there's no way to level up in trophies but don't give up, if you lose, go ahead with another game and forget the last one. I'd recommend you to read this post about How to deal with losing streaks.
The card level is so important right now, try to maximize your cards the sooner the better. With this in mind, maybe you should focus on upgrading Common and Rare cards, even if it means not being able to use your favorite Legendary card.
Learn to count elixir to maximize your impact in the game. Elixir advantage is key to victory.
I'd highly recommend acquiring Pass Royale, it will help you a lot progressing in the game as now it's so high-value due to the Book of Books, which gives you all the cards of any category needed for an upgrade (this means you can get 20 Legendary cards to maximize it right away). Besides this, if you don't want to spend any dollars in this game, check out the best free-to-play decks post where you will find decks that don't use any Legendary or Epic Card.
Strong Arena 15 decks
Graveyard Bomb Tower deck arena 15
X-bow 3.0 deck arena 15
Miner Mortar E-barbs deck arena 15
Balloon Freeze deck
Pekka Bridgespam deck arena 15
Electro Giant deck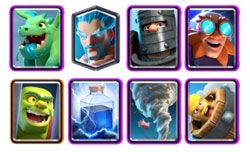 Master these decks, you'll reach the glory and face the best players in the game.
More decks that might interest you